Fresh Future Pt. 1: Building Inclusivity
Against a backdrop of destructive politics and saturated online spaces, Fabrik turned to the community of creatives and artists using its platform to predict the upcoming uncertainties and opportunities of the next 12 months. Recognising the need for a new way of supporting and championing creative and artistic thought, we identified a way to use our platform and resources to uncover and shine a light on incredible creative talent.
Through our creativity we make sense of our world. Our capacity to create thrives when there are no boundaries, no borders and no limits. It is inclusive and diverse, it is individual and cultural, it is local and global but most of all it is free to everyone.
We built Fresh to realize and nurture a new way to reward creativity. Part 1 of our feature follows our path to building and launching the initiative.

---


Against Isolationism
August 2017 - January 2018
With eyes locked on the year ahead, Fabrik turns to its own community of creatives and artists to predict the upcoming uncertainties and opportunities of the next 12 months.
The team reached out through their own networks to creatives all over the world. The result was a hand-picked global panel of 114 creative leaders and curators that established the most prolific judges reviewing team ever assembled for a free awards showcase.
The Fabrik team build out the structure for the awards showcase, defining 30 categories across the creative industries and developing the core values of the awards showcase.
The initial Fresh site goes live to introduce the initiative. We realise we have a lot of work ahead of us. The opportunity to find and build partnerships begins. Speaking of the showcase, Fabrik's CEO, Tim Jarvis says:
"We believe creative work should be awarded based on its capacity to inspire and energise the community and the cultures we're all part of, and not based on client and agency budgets."
The Fresh 18 Call for Entries invitation goes out, encouraging creatives from all backgrounds, cultures and disciplines - at every stage of their careers - to submit work they've created in 2017.
Free to enter and open to everyone contributing to the creative industries, Fresh 18 is a call to empower the visionaries, a believe that creativity aspires hope and an opportunity to shape the future.
---
Advocates For The New
To thank our judging panel for their time and energy in reviewing the entries and for spreading the word Tim created a personalised screenprinted poster for each judge with illustrator and photographer Joseph Gibson. The A2 posters were printed on a pearlescent paper stock from G.F Smith Papers and printed with pearlescent inks at Print Club in Dalston, London.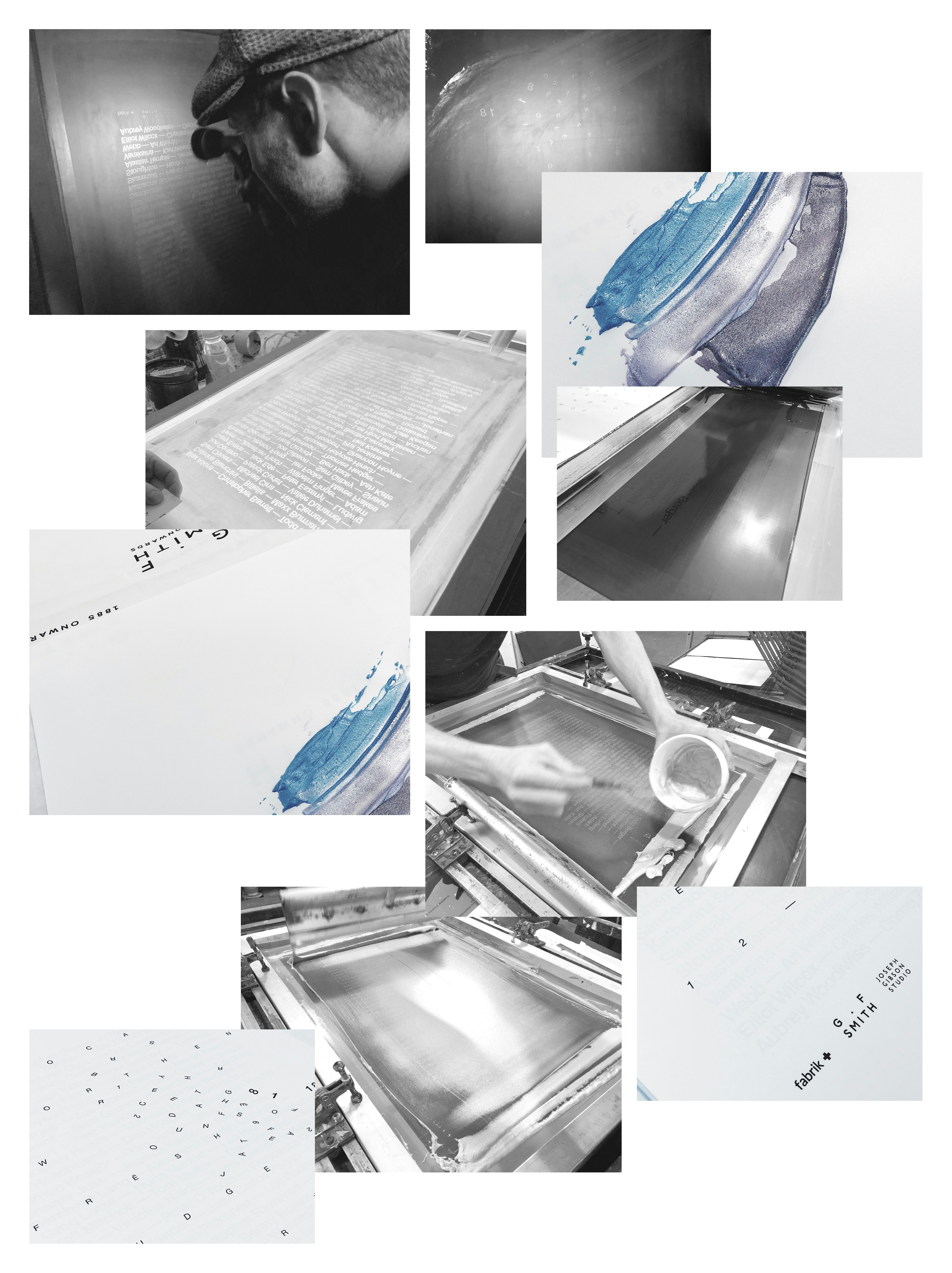 ---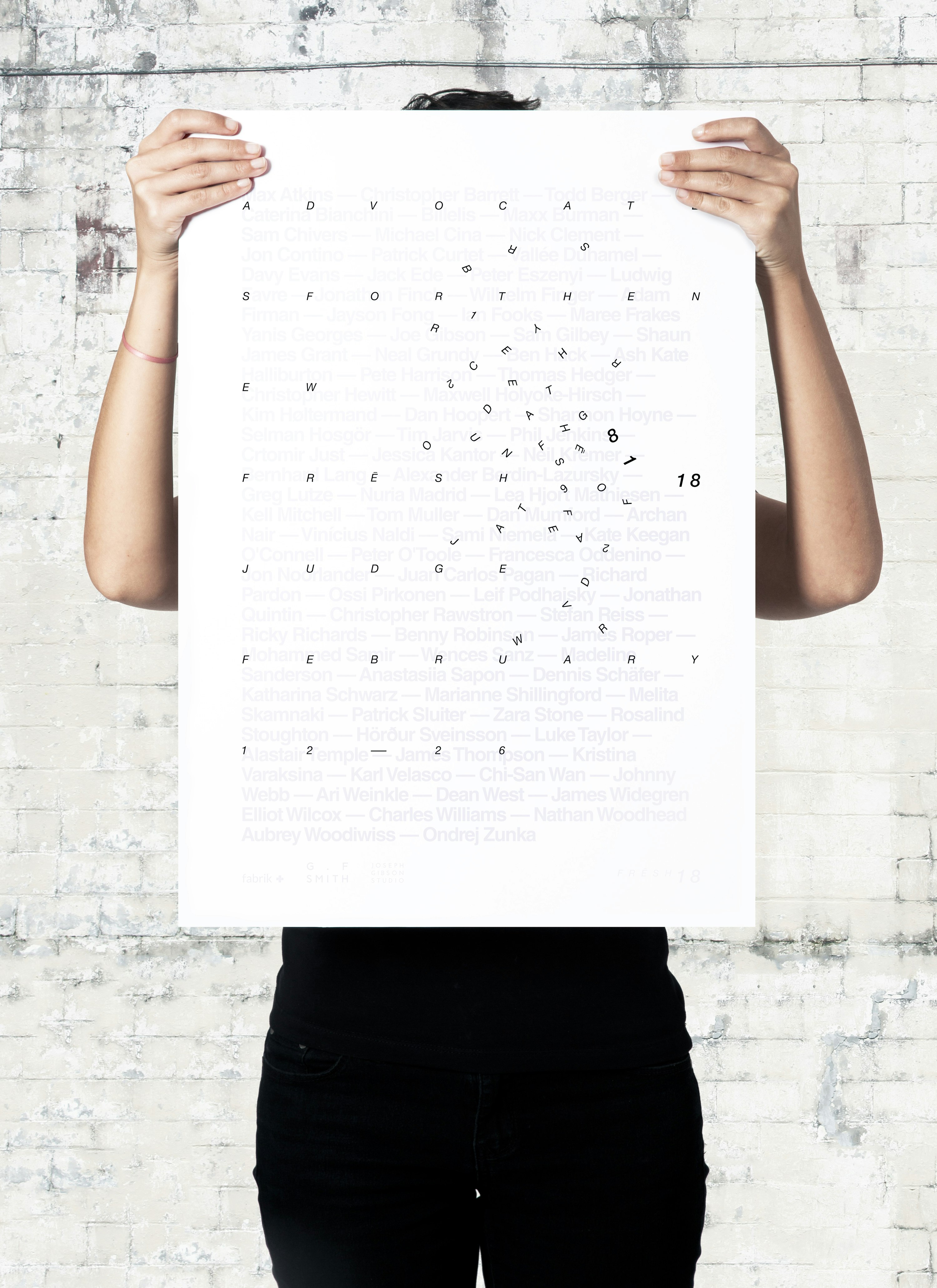 ---


Discovering Talent
February 2018 - March 2018
As the call for entries period moves on Tim and Phil are working on the design and build of a reviewing platform to allow the judges access to all the entries to score them.
The Fresh 18 Call for Entries closes with over 1600 approved entries. Our shortlist judging panel begins to review the entries. Shortlist judges are encouraged to review submitted entires across all categories, including creative fields that they don't specialise in.
Judging the Entries
Entries are scored on five criteria; originality, freshness, inspiration, context and craft. When judging is complete the criteria scores are averaged for each entry, and Fresh's internal multiplier is applied - which weights the five criteria independently.
Scores for the criteria are then combined, resulting in a single score for each entry. The entry is then measured against the other entries within it's category. Each entry is reviewed on average 26 times during the reviewing period.
---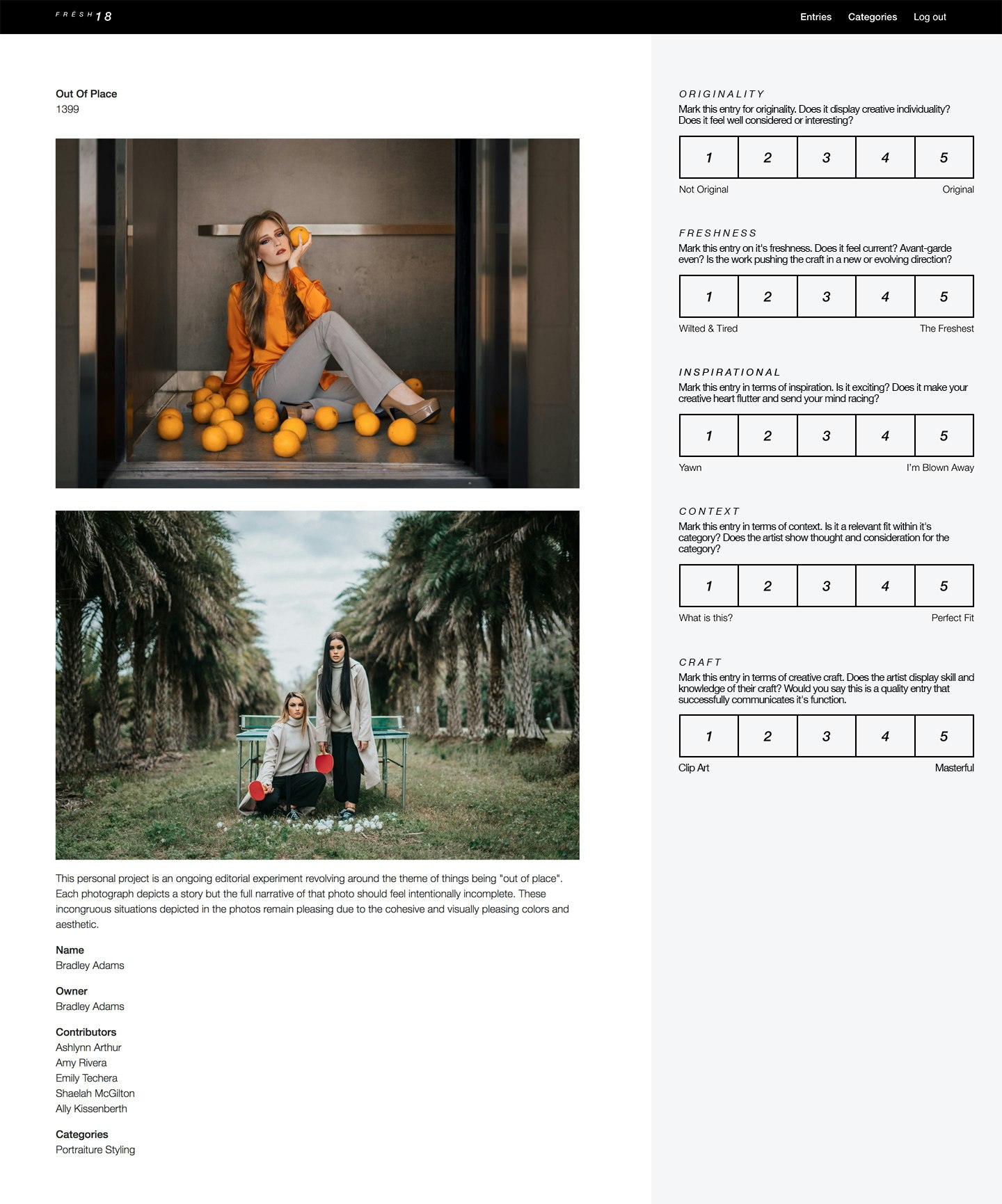 ---
Each category can only have one gold, silver and bronze winner unless two entries carry exactly the same score; in which case they'll both carry the highest award their score allows. Entries can score up to a total of 275 points. An entry needs to reach a score higher than 225 to be eligible for gold, 200 to be eligible for silver and 175 to be eligible for a bronze or carbon award.

Eligibility tiers mean that sometimes a category may not have a gold winner, which helps ensure a standard of quality across the entire showcase. A piece of work that would be graded silver in one category couldn't win gold in another.
Fresh was set up to be as inclusive and as transparent as possible, so we published an in-depth look at the creative categories; examining the scores of winning entries in a quantitative analysis session that reveals that both scale and quality play a role:
The Curator Team
During this period the most active judges are invited to become curators, who will help the Fresh team form insights into the ideas and concepts expressed across the entire catalogue of entries - not just the winners - in a series of free-form editorial articles.
The judging site is retired, and in it's place we built a curators site, enabling our curator team to browse and filter through the entire entry pool to pave the way for the Insight articles.
---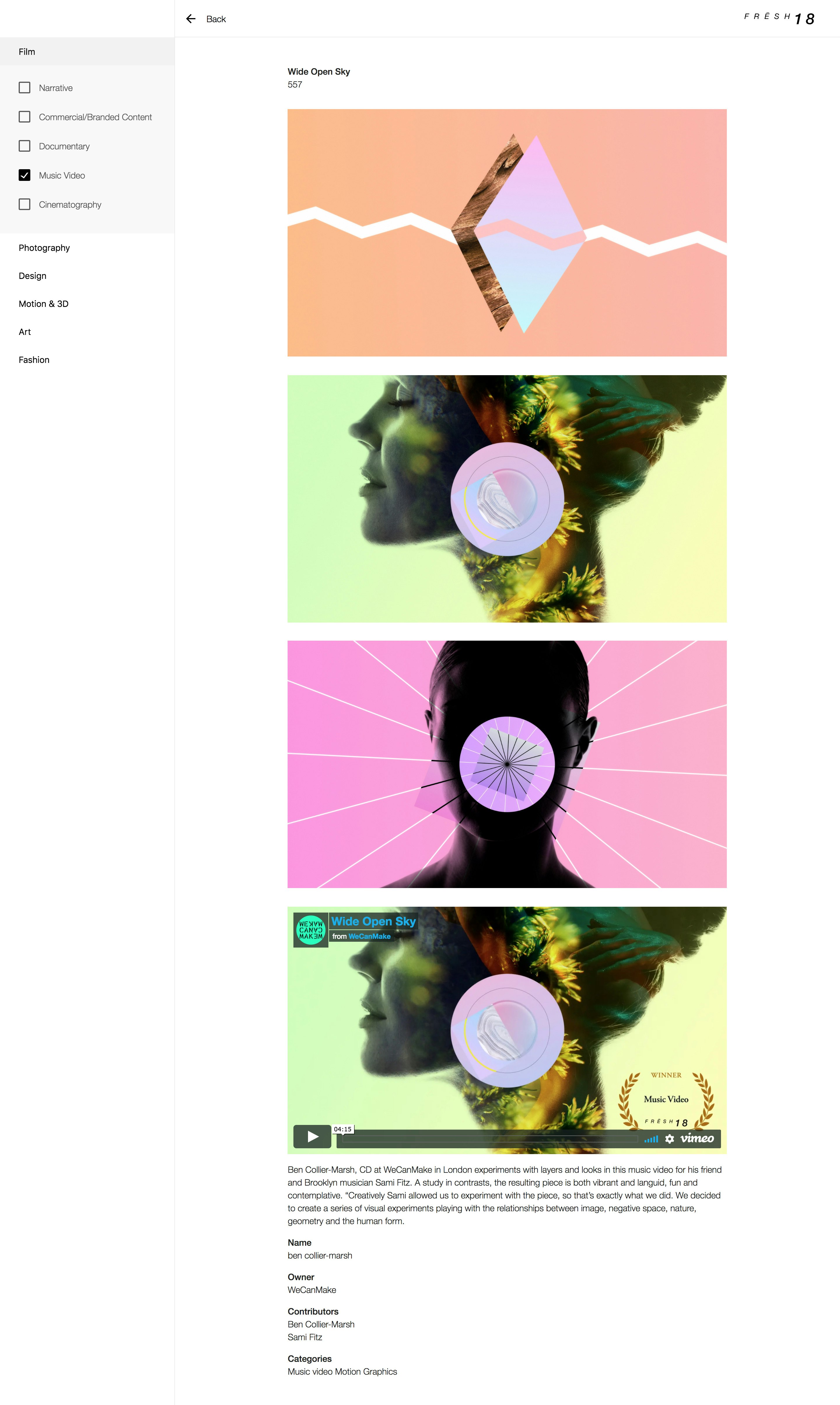 ---
As our curators confirm their inclusion, the Fresh winners submit their extended entry content and our Best in Book winners are confirmed for film, photography, design, motion & 3D, art and fashion.

Fresh Future Part 2: Rewarding Creativity
---
About Fabrik
Designed especially for creatives, Fabrik makes it really easy for you to create professional portfolio websites that showcase your work. We're here to help support and champion you and your creativity, right through your free trial and your time using Fabrik.
About Fresh Future
A brand new global showcase and awards initiative by Fabrik to discover and celebrate outstanding creative talent. State of the art creativity without boundaries or borders.