A Storytelling Paradise
Edit Ballai is Concept Artist currently based in Florida, USA. Since her early childhood she loved to create imaginary worlds and spent most of her time writing novels and illustrating them.

She is a visual storyteller, both fictive or based on truth and has been working for video game and animation studios worldwide. We got in touch with Edit to discuss her passion for creating fantastical landscapes and her ongoing project Rebirth. Read what she had to say: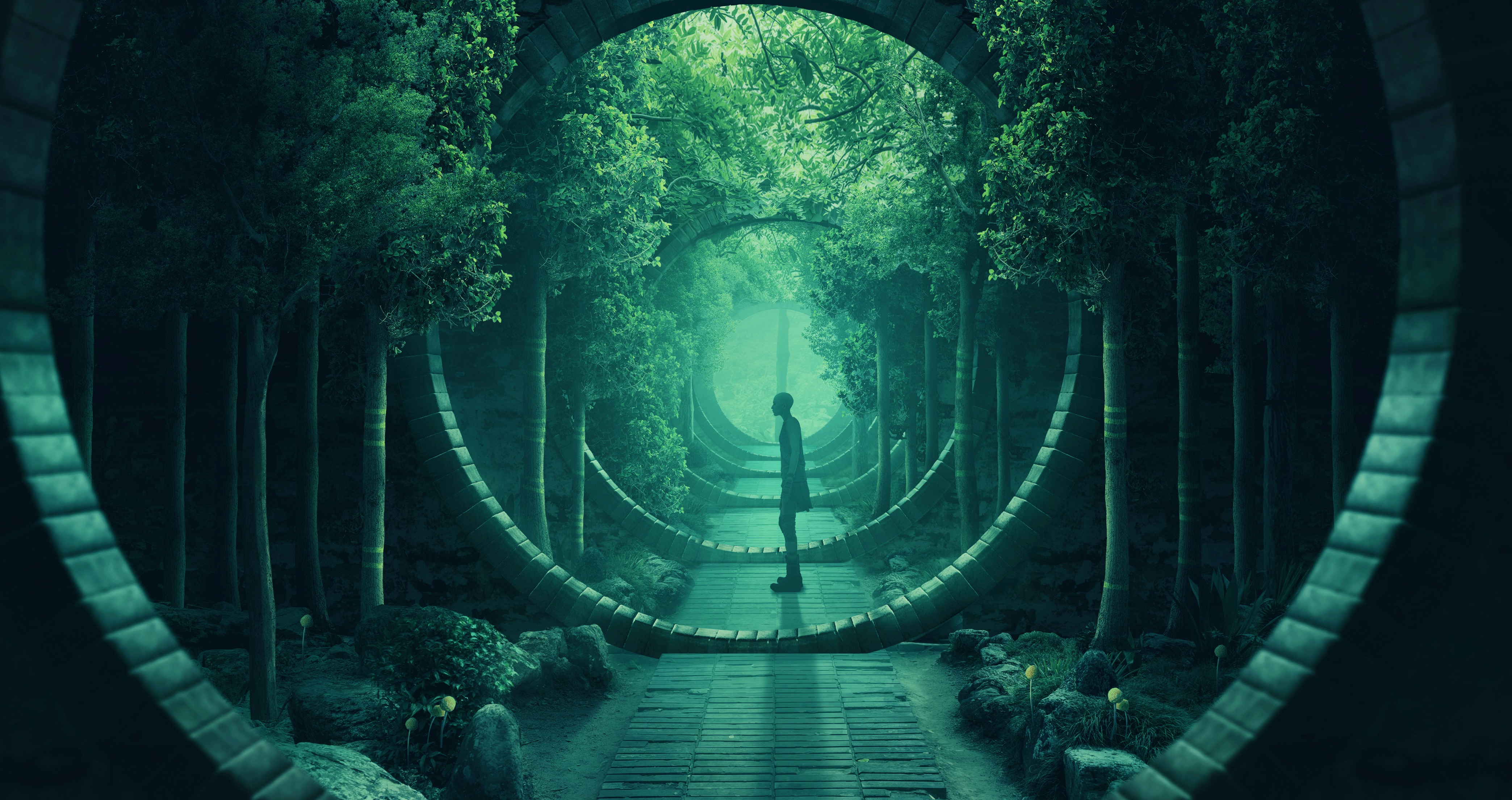 Fabrik: Hi Edit! We're so pleased to have you as our Fabrik Hero and to catch up with you. To begin, we'd love for you to share a bit more about yourself in your own words?
Edit Ballai: "Hi there, thanks for having me! I am a concept artist, originally from Hungary, have been living in the Netherlands, and currently living in the United States. Art was always important part of my life, and it was absolutely supported from my family: my mother is an impressionist painter, and my father was a journalist in that time, so storytelling with either images or words was always natural for me. I wrote my first book when I was 10 years old, but later when I got my first computer at 12, I started to paint digitally, too. My two hobbies ran parallel for long time, but eventually the visual form of storytelling took over. I studied art in high school where I've learned to draw, sculpt and paint traditionally, along with digital art classes where I was introduced to Photoshop (which I already knew). I did have other education in digital art and a few online courses too, but mostly I am a self-made artist, who was lucky enough to meet the right people at the right time."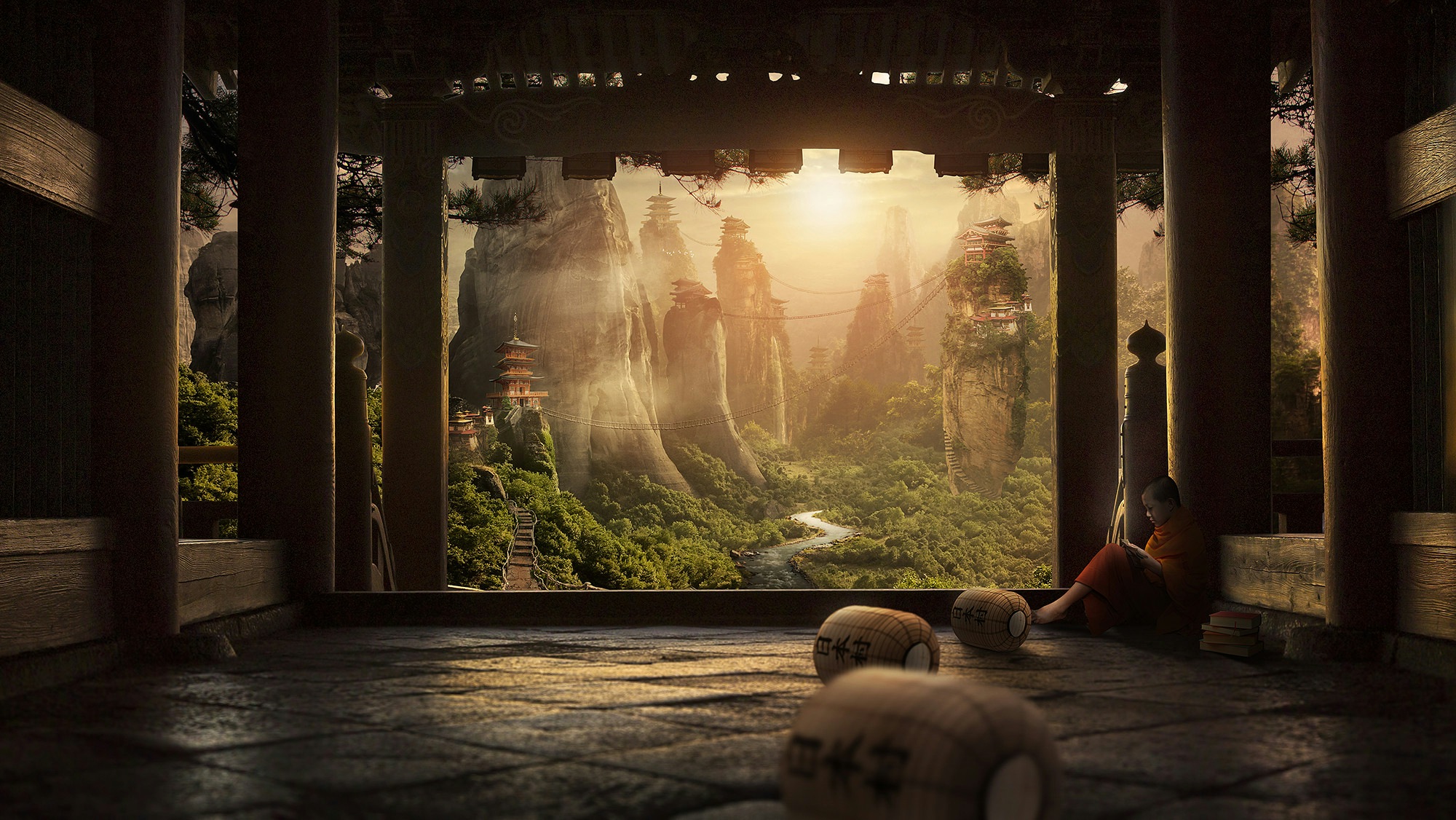 Fabrik: Ever since your childhood you've always had a passion for creating imaginary worlds. Could you tell us more about your source of inspiration?
Edit Ballai: "As a kid, I always entertained myself with creating stories in my head. Probably had too much free time alone! Nowadays, the process is way more automated, and usually comes with an idea about "what if". What if I had a female character who just woke up from dream-like state after 50 years? The main elements are usually derived from current life events but translated into metaphors, then I can start thinking of the details and the whole storyline. Because without story, I can't work.
Another source of inspiration, and way of setting the mood is listening to music. Most of the time I listen to movie's original soundtracks for work, to reach the mood I want, because the soundtracks' dynamics and energy get transformed into images in my mind and it works like an unlimited visual library. Today's movie composers are the modern Beethovens and Mozarts and their music is incredible source of inspiration."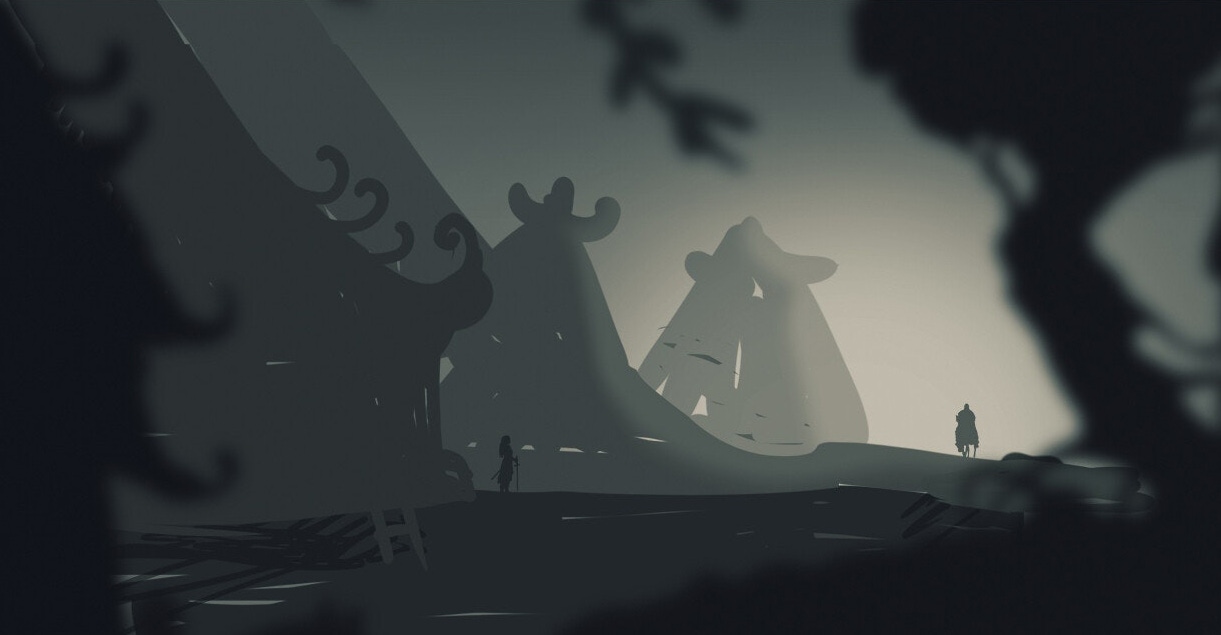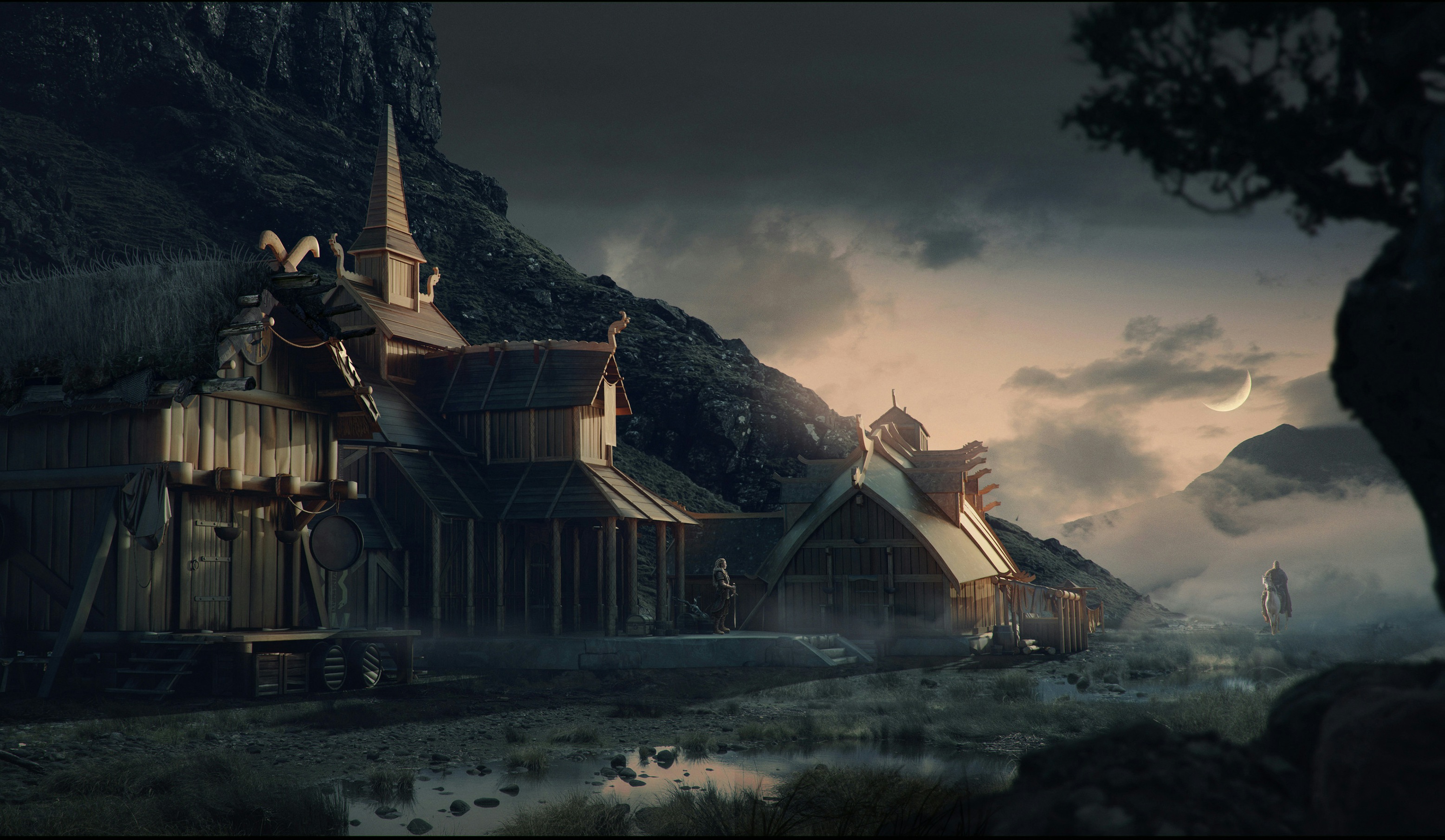 Fabrik: Your concept art portfolio includes beautiful fantastical landscapes and sci-fi interiors. What's your creative process for approaching designs? Do you sketch out scenes first?
Edit Ballai: "The very first step is to find out the backstory. It gives so much life to the final piece. When you look at it, you feel like you're in the middle of something and I'm so attracted to the storytelling part that I can't skip this step.
Once I have the concept in my head about what I want to tell, I create impressions within my mind about possible frame ideas. I spend usually a day or two just to gather some references; photos, mood and different lighting examples. I prefer to sketch a few thumbnails first, but sometimes I start in Maya right away, to build up the scene from primitive shapes just to get closer to the image in my mind. I like to start designing in 3D, because I can easily change the lighting, the angle, the placements of the elements, and since playing with composition is a big part in my creative process, I try to move to Maya as soon as possible. Once I'm happy with the overall composition, I can start modelling, and adding details until I can render the final version. The post-work always happens in Photoshop though."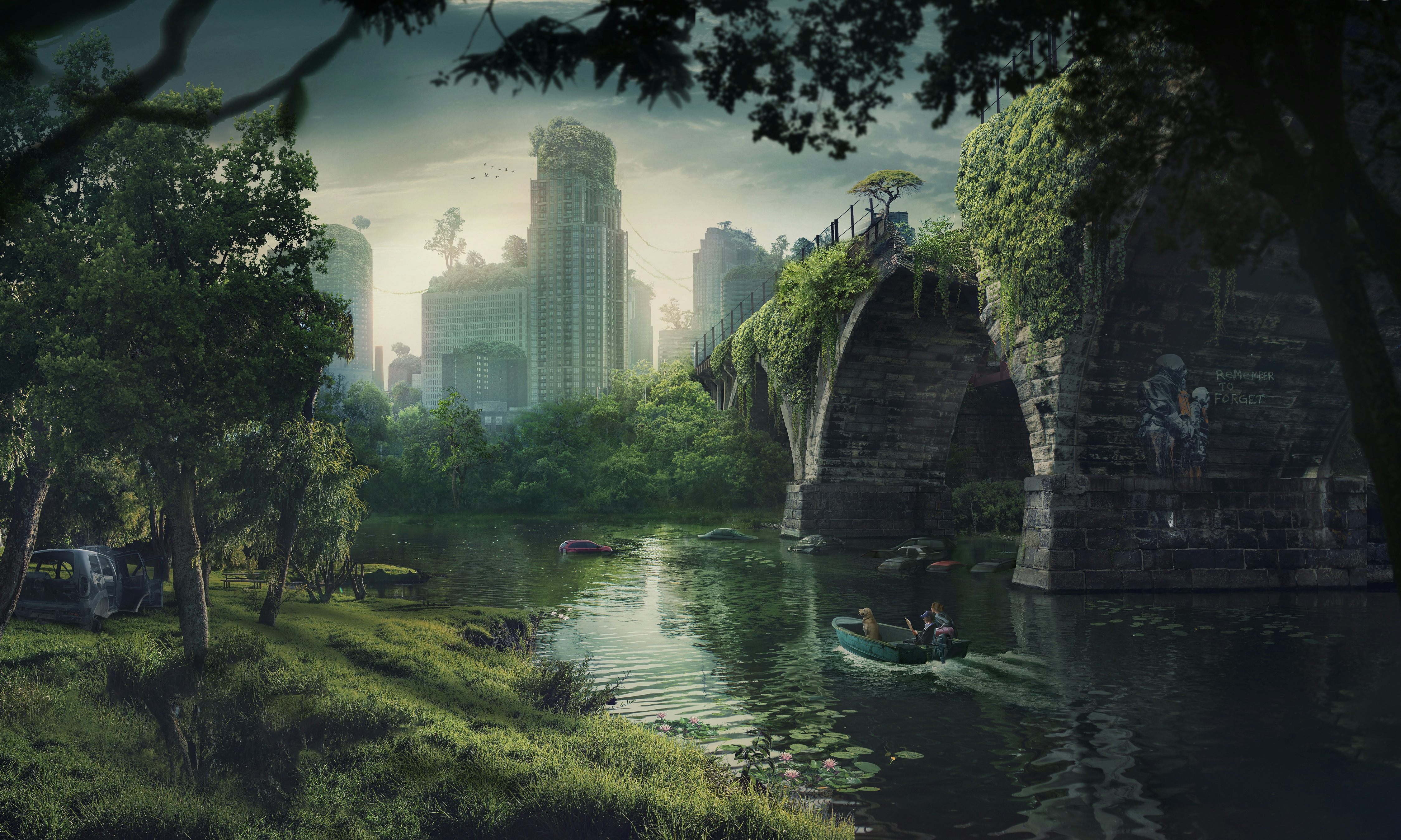 Fabrik: You've worked alongside video game and animation studios worldwide. What are you most proud of within your career so far?
Edit Ballai: "I do have my favorite projects that I've worked on. I was lucky enough to have a chance to work on exciting projects with some really talented guys in several studios in the Netherlands, Germany and in the US too. But my personal pieces are the ones that are really close to my heart. Interestingly, the favorite ones are those that tell a complete story through many images, which required several months of work on them – not to mention the preparation phase when I was just doodling storyboard frames, probably hundreds. One of them is a quite recent one, that I named '30 Years Later' and it was a passion project, I made it from love. The whole project took almost 5 months to complete. It tells the story about the characters of the Last Of Us, what happened to them 30 years later, with complete storyline and environment shots too. It probably falls into the category of 'fan art', but in an interesting way. And the current one, that I'm working on is my absolute lovechild. It will probably take much more time than 5 months, especially since I'm already thinking on a sequel."

"...My personal pieces are the ones that are really close to my heart. Interestingly, the favorite ones are those that tell a complete story through many images."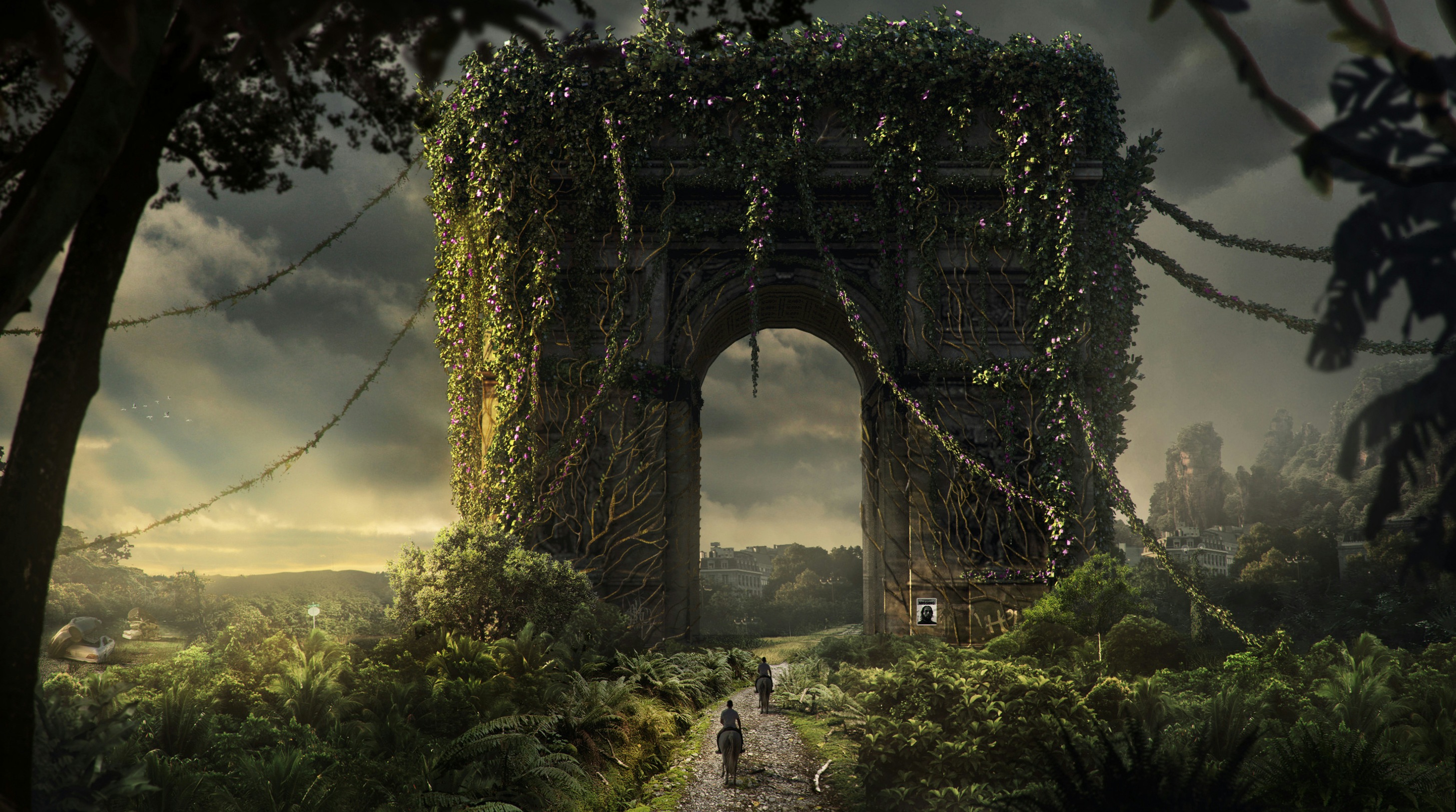 Fabrik: There has been a significant rise in women within the gaming industry but with it, a lot of controversy. Do you feel there is a gender gap within your industry?
Edit Ballai: "The industry is still heavily male-dominated. I think female representation is still a problem: only 24% of those working in the industry are women, and for those already working in the industry, their gender may work against them, and they experience either bullying or harassment. Because we only can tell stories that we already know, a mostly male dominant developer team will most likely create games with male lead characters: it's a fact that female character representation in video games is also lacking. Even if a game has female characters, they are often portrayed as a love interest, innocent or need to be rescued (by a male character). And why is that? According to sources, because "female protagonists wouldn't sell. It has to be a male character, simple as that". I can see some hope though. In the past few years, rising number of games launched, featuring female protagonists. I hope it's going to be the beginning of a new trend. Aloy from Horizon Zero Dawn, or Ellie from The Last of Us Part II, or Kait Diaz from Gears 5. It does show some improvements regarding to the matter.
Unfortunately, the whole problem is a loop. The lack of women in development roles and as lead characters in the games also means the female gamers will find it difficult to see themselves reflected in the main character. Still long way to go to solve this, but involving more women in the gaming development is a good start: it will likely lead more women into leading roles in the games."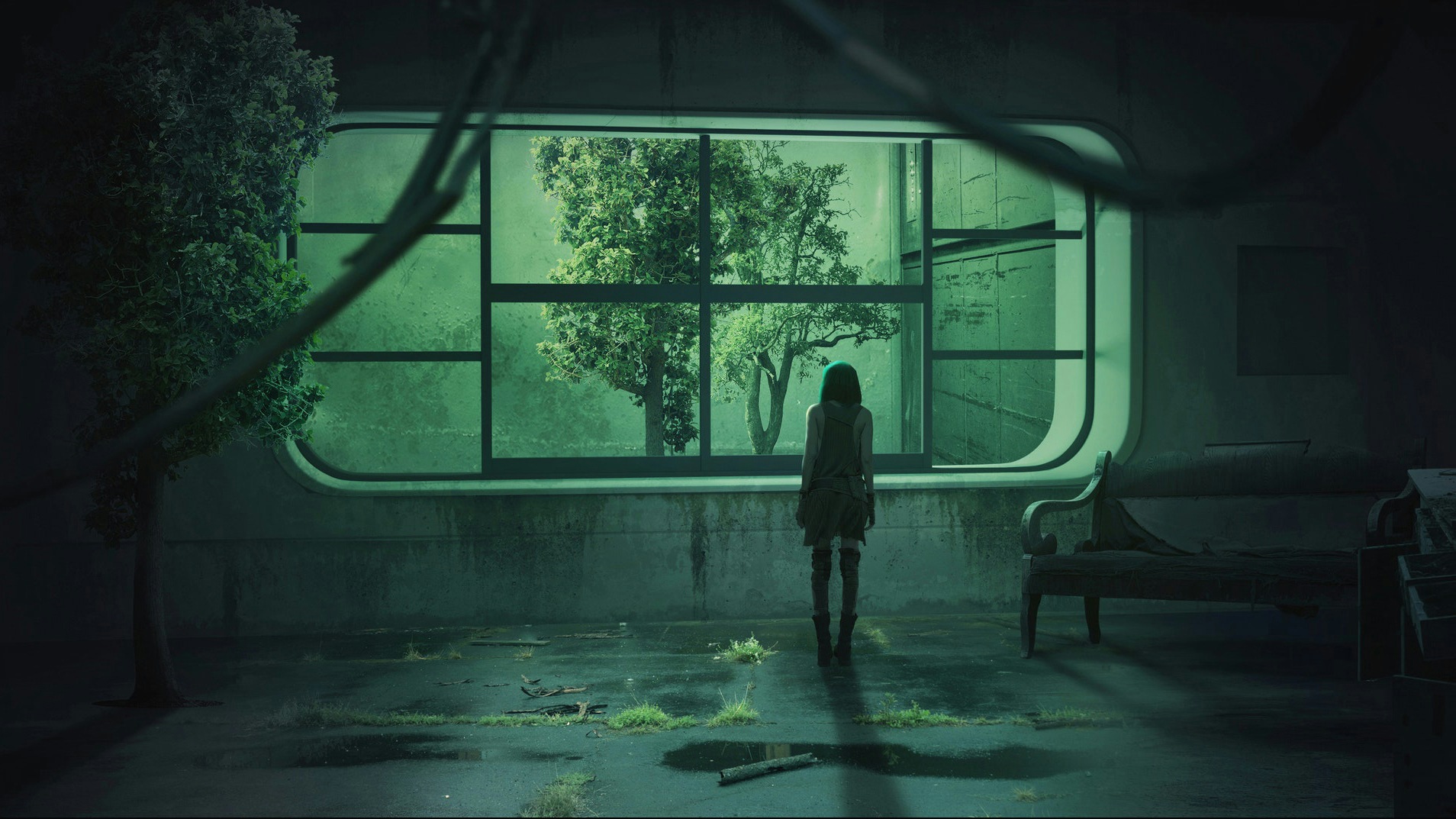 Fabrik: Tell us about your experience of selling your work as NFT's? Do you feel this is a viable way to sell digital art?
Edit Ballai: "I had some experience with selling NFTs, although I'm not too active on this field. I should invest more time in order to make it work, I think. I mint some pieces on few sites rarely, but I definitely don't dedicate as much time for it as other (and successful) NFT artists do."
Fabrik: You're currently working on an ongoing experimental series called 'Rebirth'. Could you tell us more about the back story for this project?
Edit Ballai: "The real backstory of this project is this: I had the base of the story in my mind since years, but the real reason why I started working on it now is because I needed to escape from the reality to somewhere else. I lost someone earlier this year unexpectedly, and I really needed something to focus on, something that helps me to carry on. This was one of the last projects I could have discussed with him, and he really encouraged me to start doing it. I told him that I want to present the frames with written parts, and maybe publish it eventually as an art book and he was truly excited about it. He never stopped bragging about me to his friends. Having an artist partner in my life was the biggest gift that I've ever received. Seeing now that my little project gets some response from the community really makes me happy and makes me feel like he is still around."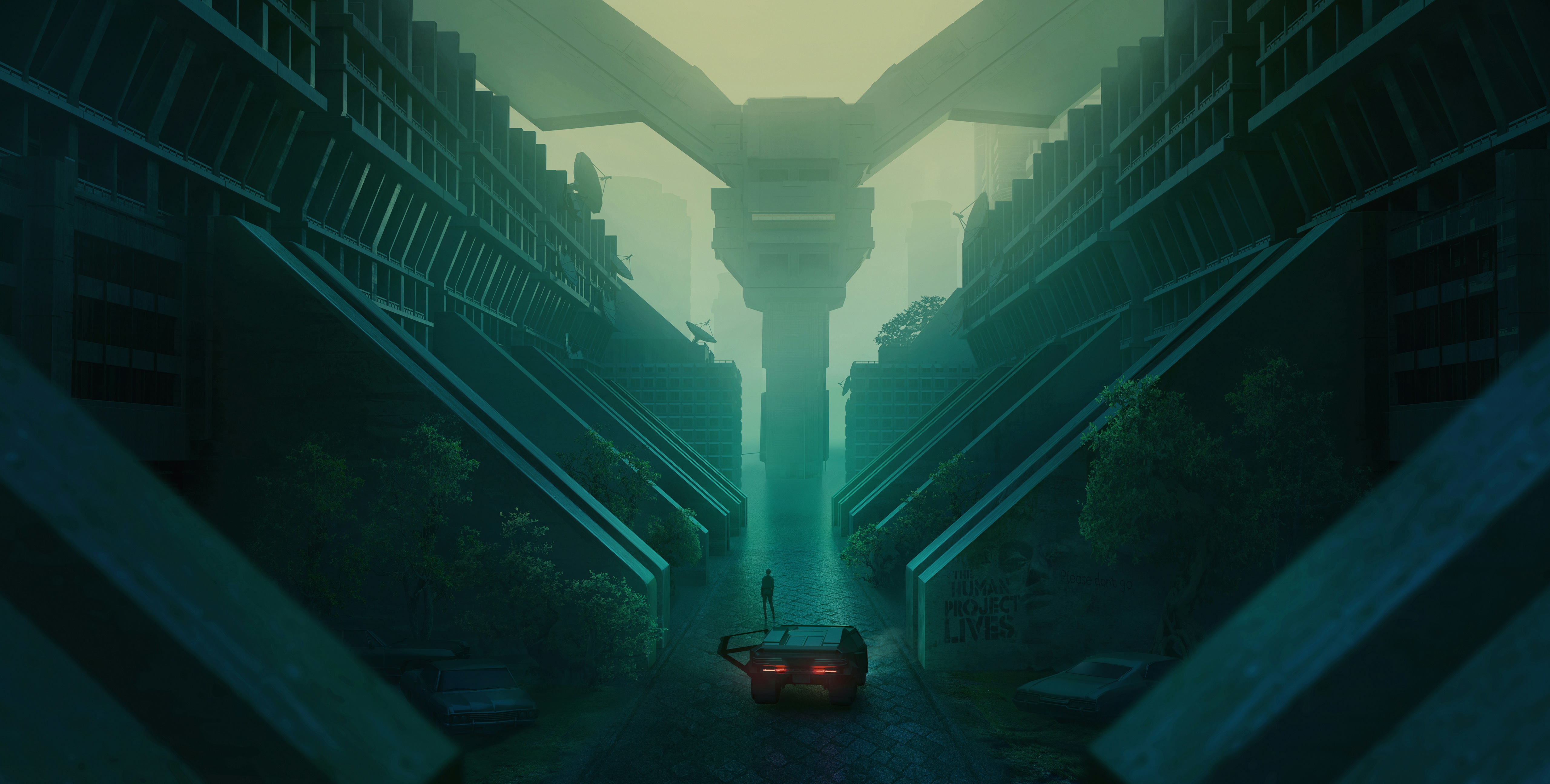 Fabrik: What do you envisage for your 'Rebirth' project going forward? Can you give us any insight into the next chapters you're working on?
Edit Ballai: "I envisage that eventually I will finish it. There is a lot to tell still. I'm working on the story and the environment shots at the same time, it's very time-consuming but also very rewarding as I have to see and imagine the storyline in my mind through frames.
The story plays in the year of 2318, and is told by our female lead character, who has spent the past 50 years in a dream-like state, but has been woken up by some people from outside of the Institute where she has been kept. Slowly, we learn the story, as we discover her environment through her eyes, that will include lot of shots about the city, the houses where other people live, hideouts, and generally about the whole island, that I named Utopia. I can tell that she is already planning her escape from the island, but it's not going to be easy. In the next few chapters, she will meet some new people who are willing to help her (or she just thought so? We will find out.)
Having a protagonist who's been asleep for so long, and her memories and dreams are sometimes mixed in her mind, gives me the opportunity to show dream-like shots, with some twist in the end. By starting with in-medias-res opening, I can only show some scenes about the Institute and the real nature of the facility and the circumstances of her awakening in form of flashbacks, but I leave those scenes to the very end to not reveal the point too early."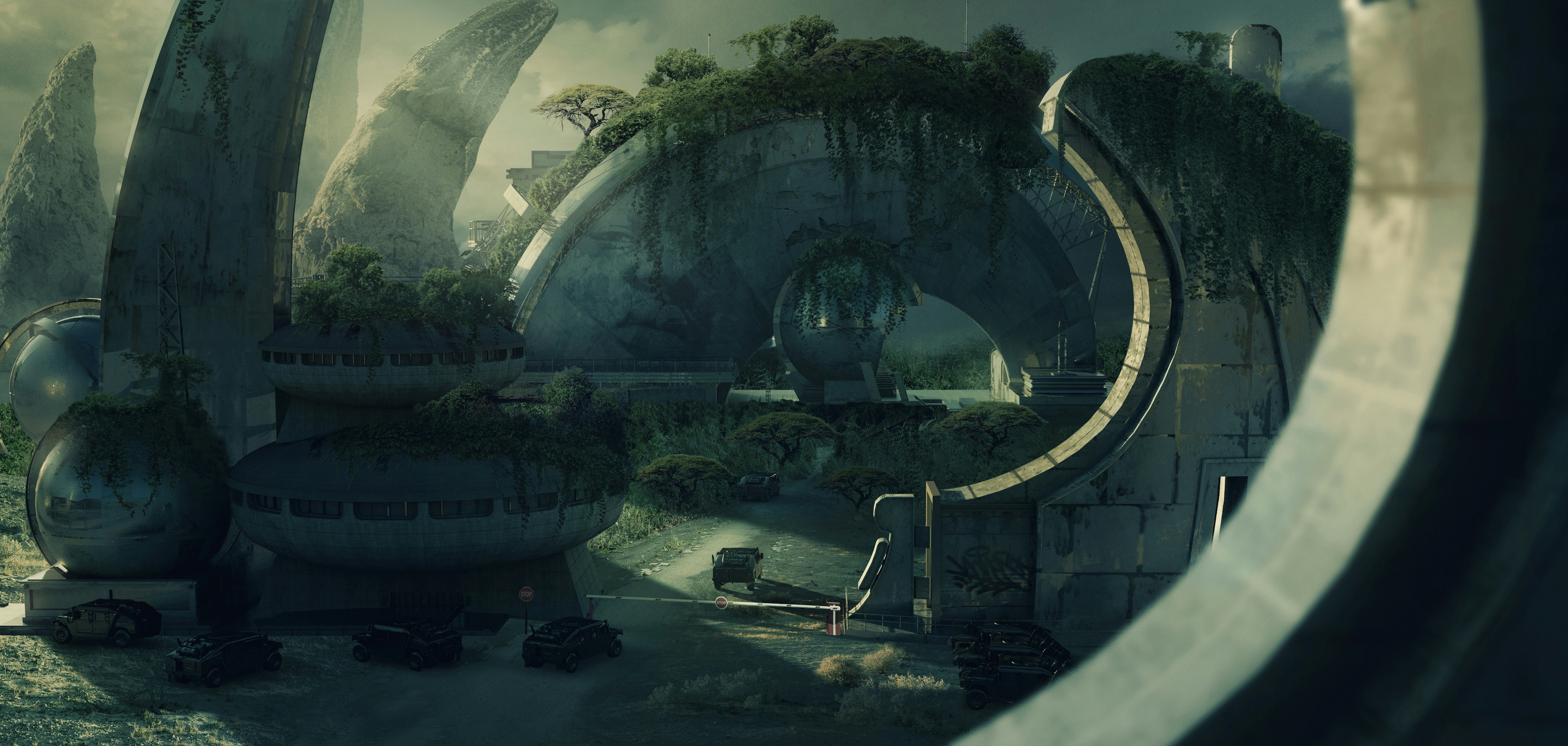 Fabrik: What advice would you give other creatives looking to embark on a career within your field?
Edit Ballai: "Be yourself. Following actual trends, or trying to satisfy everyone's taste will not work. However, adding your own personality into your work - and not only personality, but your thoughts, your feelings and everything that is you - will make a difference. It's part of the journey to find your own voice."
Fabrik: Final question. What do you like most about Fabrik? What's your favourite feature?
Edit Ballai: "I love Fabrik because it's obvious it was made for artists. The simplicity and flexibility is my favorite part, that each project's layout can be totally different, nothing is fixed, and everything can be changed within minutes. Second, the folks behind Fabrik really care about their people, and follow them along the way. See this article and agree with me!"
---
Edit uses Tocuyo, a theme for creatives that want to introduce themselves as well as their work. With optional Cover layouts Tocuyo becomes truly immersive with a full-screen hero, thumb grids and an inline About content. Suited to medium-sized portfolios.